What Are The Benefits Of Becoming A Self Employed Courier?
Becoming a self employed courier means working for yourself. This means working at a time that suits you allowing a flexibility and freedom you would surely enjoy!
While the lore of working for your self is pretty self-explanatory, we'll take a look at why starting a job as a freelance courier is particularly fruitful and what benefits you could enjoy if your venture as a self-employed courier is successful.
It's No Desk Job
Its about getting out of the office, onto the 'open road' and meeting your contracts. No boss snooping over your shoulder, as a freelance courier you have a task for the day, fulfil it and the earnings are there for the taking. Fulfil the contract in a professional manner and there's absolutely no reason you wouldn't get repeat business from clients, offering regular work.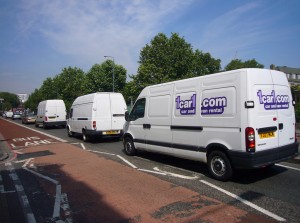 Your Earnings
Of course it's a job that requires perseverance and self-motivation. Although you won't have a boss looking over your shoulder you should be pushing yourself. If you're able to motivate yourself and earn a good reputation there's no reason you can't make an income of above £300 a day as a self employed courier when done right.
Finished your deliveries early? Take the rest of the day off or enquire if your assistance is needed further and put a bit more in your pocket, the choice is yours.
A Driver's Job
If you're the type of person that enjoys driving, then working as a self employed courier could be right up your alley. You choose your vehicle, car or van, put the window down, radio on, and you'll soon forget you're working!
You work is not only local either, it can take you anywhere, especially if you hunt contracts further a field which could be more lucrative.
Job Satisfaction
Its a cliché but its easy to know when the 'job is done right'. You can take great satisfaction as a self employed courier by looking down your list of deliveries and knowing the job has been finished. You won't take your work home with you.
As you can see, working as a freelance courier can be quite rewarding and enjoyable. Is there any aspects of the work that have made you consider the career move? Let us know in the comments below.
Images courtesy of radioeditunder Creative Commons